When Wisdom Was Born – Ganesh Chaturthi
Each corner of the country bursts into festivity during Ganesh Chaturthi. If you'd like to celebrate Ganesh Chaturthi in one of these states, head over to Thomas Cook and book one of our curated holiday packages.
AmitKumar Gupta 2022-08-25 00:00:00
A broken tusk. A rounded body carrying the wisdom of the universe. A tray of sweets by his side. A tiny mouse on the other. A lotus in one hand. A crown on his head. The second arm raised with an axe. A third lifting in benediction and blessing. This is the mighty Ganesha. A god revered by millions around the world. The remover of obstacles. The patron of art and science. The God of wisdom. The son of Shiva and Parvati. It is his birth; Hindu's celebrate with great fervour and devotion every year.
Yes, it is time for the annual Ganesh Chaturthi festival, also known as Vinayaka Chaturthi. In honour of this massive festival in India, we've put together a piece on how India celebrates Ganesh Chaturthi. This revered deity is as complex as the people who worship him. His appeal is diverse and multi-fold and appeals to different parts of the country in different ways. Even his birth has many legends attached to it – oddly fitting for Ganesha – wise like the elephant, devoted as a son and protector of his devotees.
Let's get started.
Legend After Legend – The Birth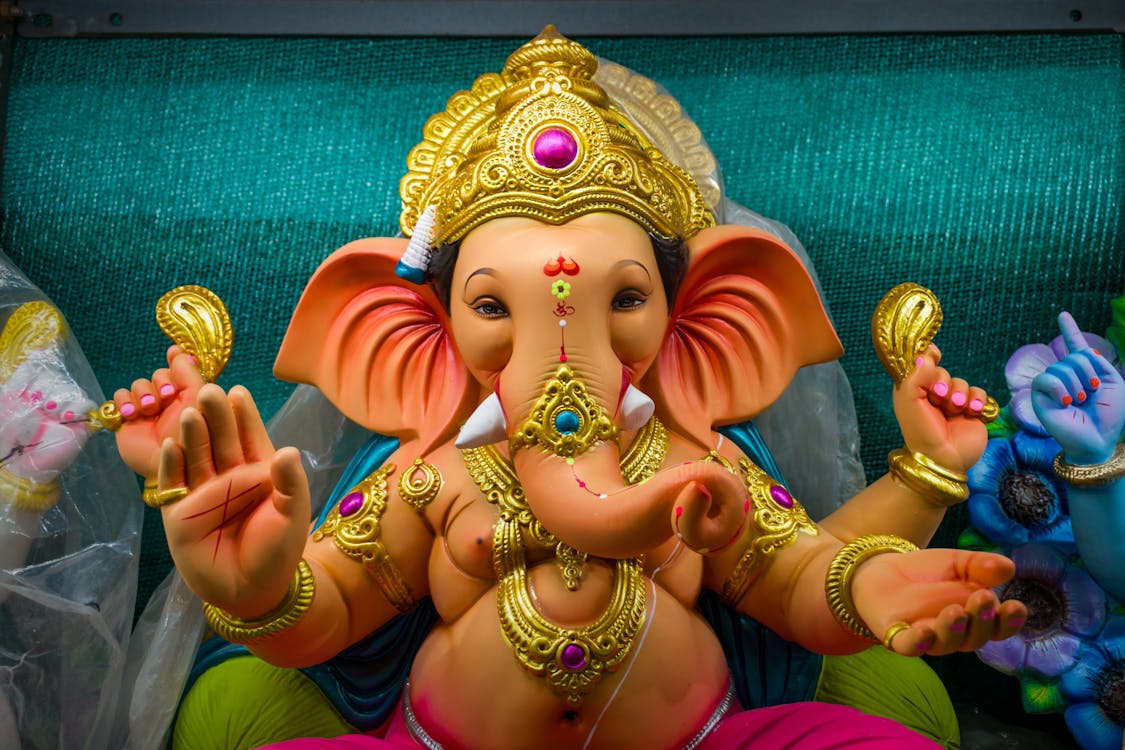 Ganesha's birthday is steeped in legend after legend. Each story touches upon a different aspect of his godly personality. In popular mythology, Ganesha is considered to be the son of Shiva and Parvati, and brother of Skanda. However, the Puranic myths tell a different tale. Some say he was created by Shiva, others by Parvati.
One of the most popular iterations of his birth is from Parvati. The goddess wanted to bathe and did not want to be disturbed. Since, Nandi was not there to stand guard, Parvati took the turmeric paste she used for bathing and fashioned a young boy from it. She breathed life into it, and thus Ganesha was born. However, when Shiva wanted to see his wife, Ganesha would not let him pass until Parvati was done. Sensing that this was no ordinary guard, Shiva decapitated the boy's head. When Parvati heard of this, she was enraged. She would only be pacified if the boy was brought back to life and if he was worshipped as a God. Shiva agreed to her conditions and sent his Shiva-dutas out to bring the head of the closest deceased creature, with its head pointing north. They returned with the head of the powerful elephant Gajasura, which was placed on the boy's body. Brahma breathed new life into him and declared him a God before all others.
There are many versions of this birth story. Some only refer to Shiva, while others speak of Parvati's yearning for a son. Each is diverse and fascinating, adding to the legend of Ganesha and his powers.
Devotion, Celebration And Immersion – The Rituals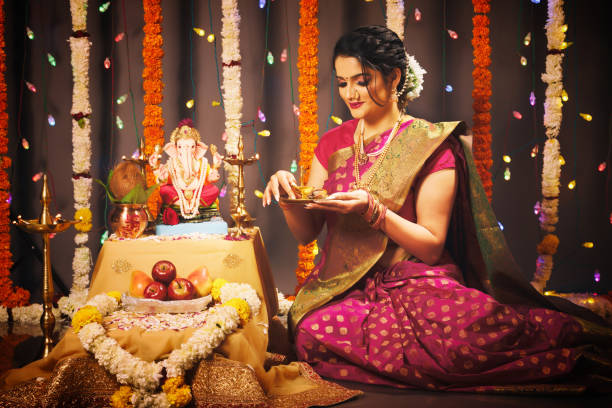 Ganesh Chaturthi includes 4 distinct rituals – Pranapratishhtha, Shhodashopachara, Uttarpuja and Ganpati Visarjan.
In Pranaprathishhtha, the idol of Ganesha is created. The devotees then place the idol on a pandal or in their home. Devotees pray, perform musical concerts and sing devotional songs to the idol.
During Shhodashopachara, 16 types of prayers are performed, including decorating the idol with flowers and offering sweets.
The third phase – Uttarpuja – takes place right before the immersion. The deity is taken from the home or pandal and is prepared for the water.
The final ritual is Visarjan, where the idol is immersed in the sea. It is said that Ganesha wrote the Mahabharat (one of India's great epics) as Sage Vyasa narrated it to him. When he ran out of writing materials, he broke his tusk and continued to write with it. The writing process went on for 10 days (the length of the festival). Once that was done, clay was applied all over Ganesha's body, and he was taken for a bath in the river. On the 11th day, Ganesha is thus immersed in water. This ritual is a reminder of Ganesha's incredible intelligence – one that is boundless and formless just like the water. It also signifies that nothing is permanent.
With each legend attached to Ganesha, there are multiple interpretations, different layers and meanings to unpack. Each has a significance, which you'll see in the different ways in which people celebrate the festival.
A State Waiting To Celebrate Ganesh Chaturthi – Maharashtra
Maharashtra goes into a state of extreme devotion and celebration during this 10-day festival. Idols of Ganesha can be found in every home, in every corner, on the street as neighbourhoods come together to celebrate. Every locality has its own pandal, with a huge Ganesha idol sitting content in the center. Cultural events, rituals, musical events, folk and classical dance, poetry and more are stuffed into every second of these 10 days. Finally, the 10th day ends with grand processions to immerse the idol.
Temples to visit: Siddhivinayak temple in Mumbai and Ashtavinayak temple in Pune.
For Booking: Click Here
Rivers Of Idols – Gujarat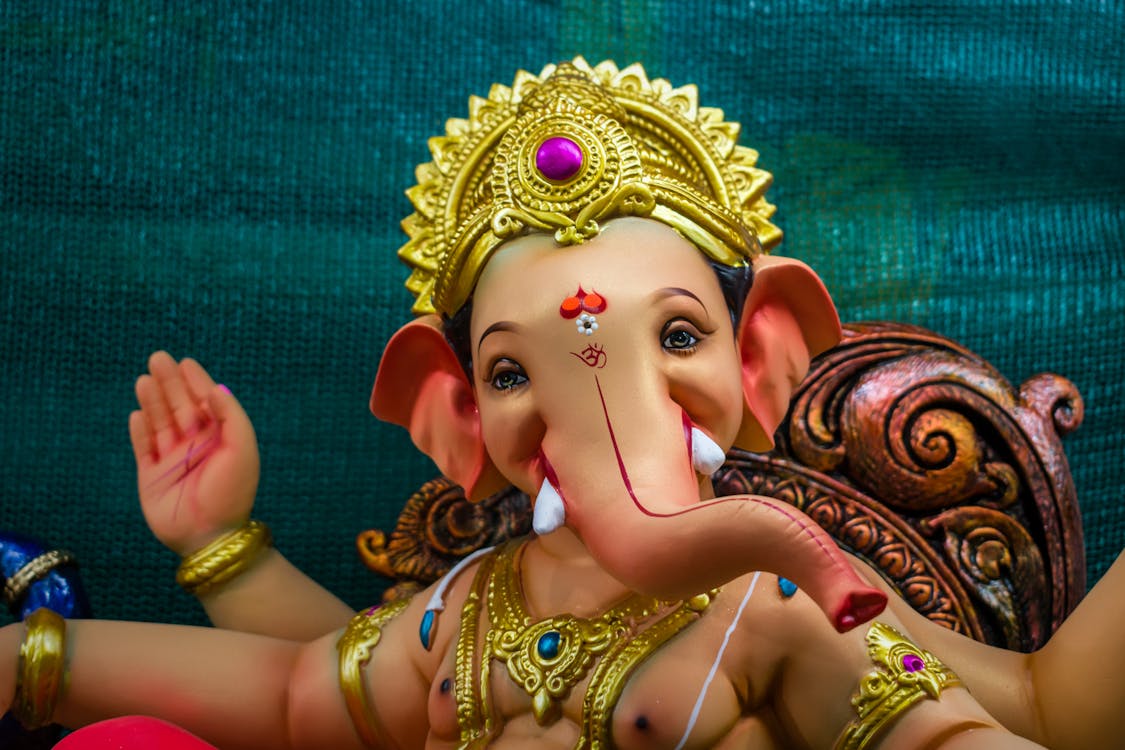 Similar to Maharashtra, Gujarat celebrates Ganesh Chaturthi will equal splendour. Over a span of 7-10 days, temples, pandals, houses and streets fill with celebrations and performances. Finally, the idols are immersed in the Tapi and Sabarmati rivers.
Temples to visit: Shree Ganpatpura temple, in Koth.
For Booking: Click Here
Markets Of Idols – Madhya Pradesh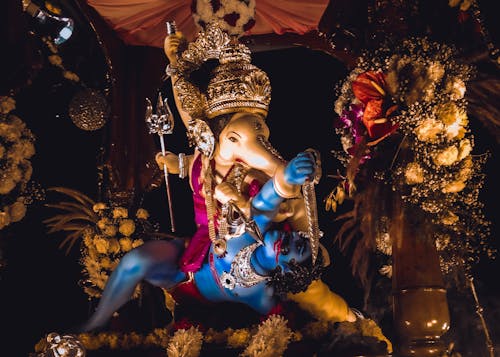 In September, the markets of Madhya Pradesh overflow with idols of Ganesha – from the small and delicate, the eco-friendly and simple and the grand and gorgeous. Crowds throng to temples to witness the grand rituals. Religious and cultural festivals are held in different neighborhoods.
Temples to visit: Birla temple in Bhopal, Khajrana Ganesh Temple in Indore, and Chintaman Ganesh temple in Ujjain.
For Booking:Cabs for Ganpati
Celebrating Chovoth ( Ganesh Chaturthi ) – Goa
Ganesh Chaturthi is known as Chovoth in Goa. For Goan Hindus, this is the time for celebrating with the family. Lord Ganesha is worshipped according to the rituals of each family. A matoli is set up where the idol is worshipped with bhajans, aartis and pujas. Sweets like modak and neuri and other savoury items are distributed. Special vegetarian meals are prepared for the festival. Finally, the idol is prepared and then taken out for the immersion into Goan waters.
Temples to visit: Gopal Ganpathi Temple in Farmagudi, Maha Ganpati Mandir in Khandola and Shree Siddhivinayak Ganesh temple in Candolim.
For Booking: Click Here
In Devotion Of Mother Gauri – Karnataka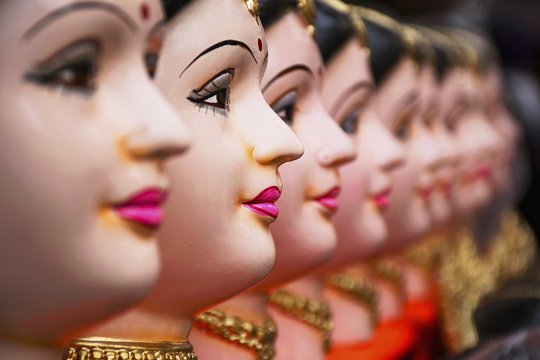 In Karnataka, celebrations are a little different. The festival begins by celebrating Lord Ganesha's mother, Gauri (Parvati). Celebrations are extensive across the different temples in the region and people often pray to both mother and son. Women, in particular, pray to Goddess Gauri for a long and happy married life, as well.
Temples to visit: Sasivekalu and Kadale Kalu Ganesha Temple in Hampi.
Lunar Leading The Way – Kerala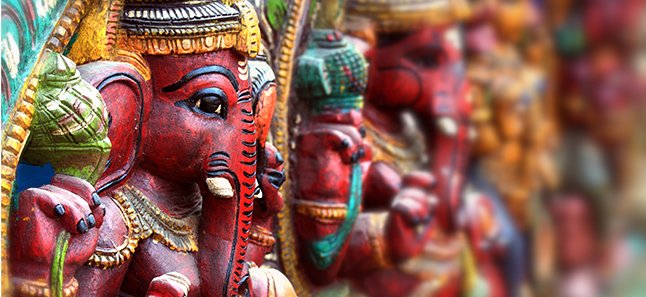 In Kerala, the timing is sometimes different from other Ganesh Chaturthi festivals in India. Known as Vinayaka Chathurthi, this festival is celebrated during Chingam masam (month). Chingam is the first month of the year according to the Malayalam Calendar. As this calendar is different, the festival might occur a month before other states celebrate. The years in which this has happened were 2004, 2012 and 2015.
Temples to visit: Madhur Mahaganapathi Temple in Kasargod.
Standing Tall – Andhra Pradesh
n Andhra Pradesh, streets, homes and cities are filled with celebration. Vinayaka Chavithi, as it is called in the state, involves pandals, immersion, devotional songs, religious rituals and more. In Hyderabad, devotees flock to the Khairatabad idol – one of the tallest Ganesha idols installed for the festival. The festival ends with this gorgeous idol immersed in Hussain Sagar Lake.
Temples to visit: Alwal Ganesh temple in Hyderabad
For Booking: Mandiron Ka Darshan !
Sweetness And Spirituality – Tamil Nadu
In Tamil Nadu, a special sweet known as Kozhukattai is made for Lord Ganesha. This sweet, made of rice and filled with flaky coconut and jaggery, is known to be one of Ganesha's favourite sweets. The final day of the festival – Ananta Chaturdashi – is when the idol is immersed in the water.
Temples to visit: Karapaka Vinayakar temple in Thiruppatthur.
For Booking: Ganpatipule Darshan
Festooned And Festive – West Bengal
The cities of West Bengal are dressed in their festive best during Ganesh Chaturthi. Large pandals are erected, where devotees offer prayers to Lord Ganesha. Devotional songs and Bengali films are played at some of the pandals. Before the idol is immersed in the water, devotees sing and dance.
Temples to visit: Shree Ganesh ji Mandir, Posta, Kolkata.
For Booking: Super Duper Deals
Ganpati Bappa Morya!
---